Generally speaking, most people think of infections as something that happens acutely. "I caught a cold" or "I have a stomach virus"… these are most often illnesses that have a distinct beginning and end. We are sick, and then we are better– life goes on.
In chronic infection, the pathogenic organism(s) persist- often in spite of or hidden from our immune systems- and contribute to diminishing health over time.
Chronic Infection vs. Our Overall Health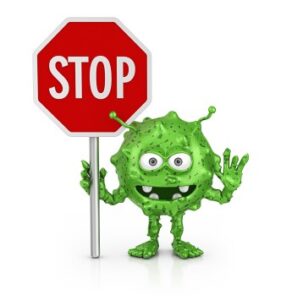 Germophobes beware!
We're talking all about bugs in this article. Tiny, creepy, omnipresent microbes like bacteria, yeast, protozoa, and (depending on how you classify them) viruses.
Little, itty, bitty organisms that are everywhere, and I do mean everywhere…
From Wikipedia's Microorganism page:
Microorganisms live in every part of the biosphere, including soil, hot springs, "seven miles deep" in the ocean, "40 miles high" in the atmosphere and inside rocks far down within the Earth's crust.  
Top to bottom and everywhere in between, they've got us covered!
The Benefits of Microorganisms
First, a note about how vital and essential the vast majority of microbes are- both to planet Earth, and to our health and bodies.
Ecosystems would not exist without microbes participating in the carbon cycle (an exchange among the biosphere and atmosphere allowing the recycling of carbon for all organisms to use), fixing nitrogen (which accomplishes the small feat of creating DNA, RNA, and proteins), recycling nutrients, and decomposition. Kinda important stuff. After all, they were here first!
The primary beneficial roles microbes play in human health include energy creation and generation, information transfer, vitamin synthesis (folic acid, biotin, and vitamin K2, among others), carbohydrate digestion, fatty acid synthesis, and gut-immune system communication.
Having a healthy relationship with microorganisms is critical to health and well-being.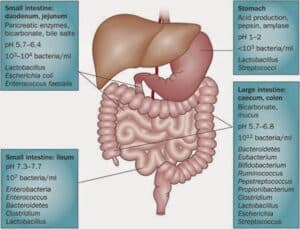 Dr. Art Ayers, Ph.D. is a biomedical researcher who understands the complexities of human health as well as the interaction between diet and health.
Dr. Ayers has written numerous articles which essentially state that whatever the effect of a treatment protocol, dietary change, lifestyle change, etc. has upon the microorganisms of the body determines how it will effect the human host.
In other words, if something promotes beneficial flora, our health improves. If the microbial effect is negative, our health suffers.
The Ubiquity of Microbes
The power microbes have in relationship to our health stems from the finding that over 100 TRILLION microbes inhabit the human gut.  That is over 10 times the number of cells of our own body.
They've got us outnumbered 10 to 1!
In health, the body's immune system is strong and can adapt to the viruses, bacteria, fungi, and protozoa that it encounters in daily life. We are continually exposed to micro-organisms and, again, most are actually beneficial to and symbiotic with our health.
However, when our bodies are under a stress response (see: The Underlying Causes of Disease), our immune system functions at a sub-optimal state.
Nutrient deficiencies, toxin excesses, and other stressors contribute to a diminished immune system functionality.
In a chronic state of  lowered immune function, pathogenic organism(s) may accumulate and persist- often in spite of or hidden from our immune systems. What's more, the more out of balance our immune systems become, the more likely we are to fall victim to future and multiple infections.
Currently, scientists have identified over 220 viruses that are known to infect humans. About 3 or 4 new viruses are discovered every year.
Over time, our health may suffer in a wide variety of ways.
Chronic infection is an idea that has not yet been championed by many in conventional medicine because it is often impossible to diagnose without complex laboratory or diagnostic evaluation that is not routinely a part of a medical doctor's office.
This may change in the future, as researchers are making headway into testing for viral infections– see below to learn more about exciting new technology!
However, for now, blood work that is more commonly tested often does not show specific markers for chronic infection (however, lab work from someone currently ill most often clearly shows a pattern of acute infection).
How Chronic Infections Cause Chronic Disease
Part of how pathogens affect our health chronically is by exacerbating the other underlying causes of illness. Viruses, bacteria, etc. consume energy and produce waste matter.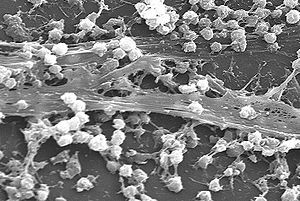 With an overgrowth of a pathogenic organism or organisms, the nutrients that would otherwise nourish our health are not utilized by us.  Surface level microbes form complex polysaccharide matrixes called Biofilms to protect and "wall-off" their communities.
These biofilms trap calcium, magnesium, iron, and zinc.  When microbes process energy themselves, they produce waste matter that we then have to process. Simultaneously, when microbes die-off we are left to handle these components.
A blanket term for this pathogenic waste matter or die-off particles is called Endotoxin. Once any person is subjected to enough endotoxin, their health will become compromised.
The net result is we may become more nutrient deficient, accumulate more toxins, and become more susceptible to an unhealthy stress response.
Emerging research supports the idea that persistent underlying infection is at the root of many chronic ailments, illnesses, and diseases in ways that are different than our current understanding of acute infection.
How Can We Heal from Chronic Infection?
In our practice, chronic infection has emerged as one of the very most important underlying causes in disease.
Cases not often attributed to "infection" have often seen great improvement when we start to improve our immune system strength in the effort to reduce chronic infections.
Examples include:
Digestive disturbance
Inflammatory conditions (musculoskeletal and/or joint pain, skin conditions, etc.)
Metabolic dysfunction

Changes in blood sugar, blood pressure, and cholesterol
Poor quality sleep and low energy

Hormonal and neurotransmitter imbalances
Even mental, emotional, and cognitive issues
You can see why we consider the immune system to be one of the most important keys to our overall health!
Healing from chronic infection may be a challenge–and that's why we are here to help!  We have worked with many patients to establish a comprehensive, individualized naturopathic plan to improve their immune systems.
Additionally, we offer a number of beneficial nutritional supplements that help to support healthy immune function, such as:
A number of other immune supportive nutrients and supplements are available to our patients based upon their individual needs.
The Future of Chronic Infection?
Earlier we mentioned a new technology for detecting viruses. We are excited at this possibility because identifying the root cause of illness is a core principle of naturopathic medicine.
According to Dr. Vincent Racaniello, Ph.D., a professor in the College of Physicians and Surgeons of Columbia University:
Immune defense systems of many hosts produce antibodies in response to virus infections. These large proteins, which are generally virus specific, can block or inhibit virus infection, and persist at low levels for many years after the initial infection. Hence it is possible to determine whether an individual has had a virus infection by looking for anti-viral antibodies in the blood. Up to now the process of identifying such antibodies has been slow and limited to one or a few viruses. A new assay called VirScan allows unbiased searches for all the virus antibodies in your blood, providing a picture of all your past infections.

This new assay may one day become a routine diagnostic tool that is used along with complete blood counts and chemistries to know if a patient's signs and symptoms might be attributable to a past virus infection. VirScan technology is not limited to virus infections – it can be used to provide a history of bouts with bacteria, fungi, and parasites.
Human testing with the VirScan technology demonstrates:
Each person tested had been exposed to an average of 10 viruses
Some people had over 20 viruses, and 2 had exposure to 84 separate viruses(!)
Most frequent viruses include:

Herpesviruses
Rhinoviruses
Adenoviruses
Influenza viruses
Respiratory Syncytial Virus (RSV)
Enteroviruses

The overall most common virus exposure: Epstein-Barr Virus (EBV)

Over 88% of people have been exposed to Epstein-Barr Virus(!)
Dr. Racaniello feels these results are not unexpected, as he believes each and every one of us are infected with, "at least a dozen viruses at any time."
Yikes!
We can only hope that technologies like this become readily available so that we may better understand how to heal from chronic infection.
---
References: