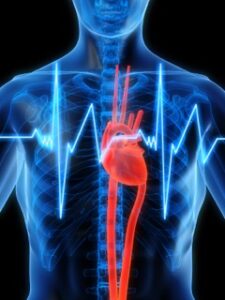 Key coenzyme Q10 benefits include assisting energy production, antioxidant support, cardiovascular health and minimizing the side effects of statins.
CoQ10 Benefits
Coenzyme Q10 benefits are wide ranging because this powerful nutrient is found in nearly every cell of our bodies.  Found primarily in our mitochondria, the main function of Coenzyme Q10 (CoQ10) is generating energy.  And I don't know about you, but I know I like having energy!  🙂
Energy generation at the cellular level, as supported by CoQ10, is essential for the healthy function of all of our body systems: metabolic, hormonal, digestive, immune, nervous, and cardiovascular.  Speaking of which, the heart has very high energy needs, explaining the very high concentration of CoQ10 in the heart.  Coenzyme Q10 benefits for our heart health have been touted for years.
Another well known function of CoQ10 is its role as an antioxidant.  If we get all technical here, this antioxidant function actually comes secondary to how it works in energy creation.  The vast, vast majority of energy production in the body is by a process called oxidative respiration.
Don't worry– I won't give you a test on oxidative respiration!  Yet, even without a degree in physiology, you can plainly see in the name itself… creating energy involves oxidation → which necessitates antioxidant nutrients → like CoQ10.  Voila!  Energy production and antioxidant function are the key coenzyme Q10 benefits.
Coenzyme Q10 Supplements
Not all coenzyme Q10 supplements are created equally.  Unlike some nutrients, CoQ10 is really important to get from a reliable source.  A review from the National Institutes of Health raised concerns regarding the manufacturing of commercial brands.  Another analysis found:
Amounts varied from "no detectable CoQ10" to 75% of stated dose up to a 75% excess.  "When a patient can go from zero dose to 175% of dose just by switching brands, there is potential for a real problem…"  – Tod Cooperman, ConsumerLabs.com
Given how important energy generation and antioxidant function is, it's essential to use the very best coenzyme Q10 supplements. Unfortunately, commercially available brands often fall short in terms of quality.
Through the years of our practice, we have seen a number of good coenzyme Q10 supplements available at the professional level.  However, there's usually a different problem: high cost.  A typical, high-quality CoQ10 supplement comes with a price tag in the $25 to $40 range per month.
Finding the right balance between high quality and affordability can be a challenge when it comes to CoQ10. We feel fortunate that we were able to find that balance point with the Lewis Family CoQ10 supplement.  At under $20 a month, our CoQ10 is over 2 times more bioavailable than other oil-based nano-formulas and 8 times more well absorbed in comparison to powdered CoQ10.
You get all the coenzyme Q10 benefits in an affordable and easy-to-take capsule.
CoQ10 and Statins
You could say that CoQ10 and Statins have a "rob Peter to pay Paul" kind of relationship.  Statin medications are a class of cholesterol-lowering medicines that work by inhibiting an enzyme called HMG-CoA reductase.  This enzyme naturally makes both CoQ10 and cholesterol.
Therefore, a statin medicine that lowers cholesterol also lowers coenzyme Q10.
A study in the Journal of Clinical Pharmacology demonstrated this relationship between CoQ10 and statins, showing these medications can reduce levels of CoQ10 by up to 40%.  That can be significant!!
Other medications demonstrate a similar relationship as CoQ10 and statins, with certain types of beta-blockers and blood pressure lowering medications also reducing our natural production of coenzyme Q10.
Supplementing with coenzyme Q10 supplements is a very safe, very important step to replace what is being lost in the side effects of statins.
Side Effects of Statins
The most prevalent side effects of statins are muscle pain and elevated liver enzymes.  Statins also are associated with muscle inflammation (myositis) and even an increased risk for diabetes.
Other conditions linked to the side effects of statins include:
Cognitive Loss
Neuropathy
Pancreas and Liver Dysfunction
GI Problems
Sexual Dysfunction
Clinical research does demonstrate a number of risks, and we can attest to the prevalence of these reactions.  Over our years in practice, many patients have told us about their difficulties with these medications.  We are glad to have a possible solution for them to complement their conventional care, but we certainly wished their other doctors had told them about coenzyme Q10 supplements earlier– it might have saved them from the side effects of statins!
A goal of ours here at Lewis Family Natural Health is to find health and restore balance.  We feel the coenzyme Q10 benefits of generating energy, antioxidant protection, and preventing side effects help to accomplish that goal.
---
References:
https://naturalmedicines.therapeuticresearch.com/databases/food,-herbs-supplements/c/coenzyme-q10/professional.aspx
How CoQ10 is manufactured is not regulated and different batches and brands may vary significantly.

 White, J. (lead reviewer); National Cancer Institute(NCI) (14 May 2014). "PDQ® Coenzyme Q10". NCI,National Institutes of Health, US Dept. of Health and Human Services. Retrieved 29 June 2014.

A 2004 laboratory analysis by ConsumerLab.com found CoQ10 supplements on the market did not all contain the quantity identified on the product label. Amounts varied from "no detectable CoQ10" to 75% of stated dose up to a 75% excess. Tod Cooperman president of ConsumerLab.com stated, "When a patient can go from zero dose to 175% of dose just by switching brands, there is potential for a real problem…"

"ConsumerLab.com finds discrepancies in strength of CoQ10 supplements". Townsend Letter for Doctors and Patients. August–September 2004. p. 19

Pravst, Igor; Zmitek, Katja; Zmitek, Janko (2010). "Coenzyme Q10 Contents in Foods and Fortification Strategies". Critical Reviews in Food Science and Nutrition 50 (4): 269–80.doi:10.1080/10408390902773037. PMID 20301015.
CoQ10 shares a biosynthetic pathway with cholesterol. The synthesis of an intermediary precursor of CoQ10, mevalonate, is inhibited by some beta blockers, blood pressure-lowering medication, and statins, a class of cholesterol-lowering drugs.

 Kishi, T; Watanabe, T; Folkers, K (1977). "Bioenergetics in clinical medicine XV. Inhibition of coenzyme Q10-enzymes by clinically used adrenergic blockers of beta-receptors". Research communications in chemical pathology and pharmacology 17 (1): 157–64. PMID 17892.
 Mortensen, SA; Leth, A; Agner, E; Rohde, M (1997). "Dose-related decrease of serum coenzyme Q10 during treatment with HMG-CoA reductase inhibitors".Molecular aspects of medicine 18 (Suppl): S137–44.doi:10.1016/S0098-2997(97)00014-9. PMID 9266515.

Statins can reduce serum levels of CoQ10 by up to 40%.

 Ghirlanda, G; Oradei, A; Manto, A; Lippa, S; Uccioli, L; Caputo, S; Greco, AV; Littarru, GP (1993). "Evidence of plasma CoQ10-lowering effect by HMG-CoA reductase inhibitors: a double-blind, placebo-controlled study".Journal of Clinical Pharmacology 33 (3): 226–9.doi:10.1002/j.1552-4604.1993.tb03948.x.PMID 8463436.

Some research suggests the logical option of supplementation with CoQ10 as a routine adjunct to any treatment that may reduce endogenous production of CoQ10, based on a balance of likely benefit against very small risk.

Sarter, B (2002). "Coenzyme Q10 and cardiovascular disease: a review". Journal of Cardiovascular Nursing 16(4): 9–20. doi:10.1097/00005082-200207000-00003.PMID 12597259.
Thibault, A; Samid, D; Tompkins, AC; Figg, WD; Cooper, MR; Hohl, RJ; Trepel, J; Liang, B; Patronas, N; Venzon, DJ; Reed, E; Myers, CE (1996). "Phase I study of lovastatin, an inhibitor of the mevalonate pathway, in patients with cancer". Clinical Cancer Research 2 (3): 483–91. PMID 9816194.

http://en.wikipedia.org/wiki/Statin#Adverse_effects

Bellosta, S; Corsini, A (2012). "Statin drug interactions and related adverse reactions". Expert Opin Drug Saf11 (6): 933–46. doi:10.1517/14740338.2012.712959.PMID 22866966.
Golomb BA, Evans MA (2008). "Statin Adverse Effects: A Review of the Literature and Evidence for a Mitochondrial Mechanism". Am J Cardiovasc Drugs 8 (6): 373–418. doi:10.2165/0129784-200808060-00004.PMC 2849981. PMID 19159124.
Silva MA, Swanson AC, Gandhi PJ, Tataronis GR (January 2006). "Statin-related adverse events: a meta-analysis". Clin Ther 28 (1): 26–35.doi:10.1016/j.clinthera.2006.01.005. PMID 16490577.