More often than not, when we think of how exposure to chemicals can harm us, we conjure images of barrels full of toxic sludge with the tell-tale skull and crossbones. We envision massive amounts of poisonous substances engulfing our bodies and causing harm.
Interestingly, tiny amounts of hormone disrupting chemicals can sometimes actually do more damage than large amounts.
While it seems counterintuitive, the fact is that our bodies are used to dealing with really small amounts of natural hormones, produced almost constantly. So when foreign endocrine disruptors from our environment—like our food and our cosmetics—enter our bodies in tiny doses throughout the day, they mimic real life.
Endocrine Disruptors: Toxic to your Hormones
Hormone, or endocrine, disruptors are chemicals that potentially interfere with the body's endocrine system. The endocrine system is extraordinarily complex and important—it regulates mood, growth and development, tissue function, metabolism, sexual function and reproductive processes.
When people say, "My hormones are out of balance" or "I feel hormonal," they are talking about their endocrine system.
Some chemicals mimic a natural hormone and thereby fool the body into responding in ways it shouldn't. For example, a chemical that sends a signal to the body to overproduce estrogen can lead to breast cancer. Another chemical may tell a needed hormone to underproduce. These chemicals trick the body and throw it completely out of balance, making us feel crazy and sick!
Interestingly, small amounts of these chemicals can sometimes have the greatest effect on triggering changes that may produce serious developmental, reproductive, neurological and immune problems.
A wide range of substances can disrupt hormones, including DDT and other pesticides, BPA (found in polycarbonate plastics and the resins that line metal food cans), phthalates (found in "fragrances" in detergents and cosmetics) and parabens (common cosmetic preservatives). Examples of everyday items that may include xenoestrogens are: fruits and vegetables sprayed with pesticides, plastic water bottles and Tupperware, nail polish, makeup and more.
Two common Endocrine Disruptors: Parabens and Phthalates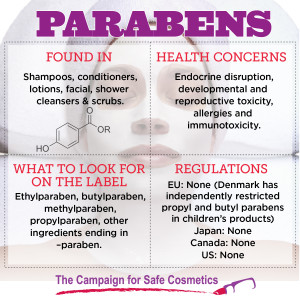 Parabens are a class of preservative used in many skincare and makeup products to prevent the growth of bacteria and mold. There are methylparaben, isobutylparaben, proplyparaben and others, but essentially, you want to avoid anything ending in -paraben, since they mimic estrogen and may play a role in triggering cancer and other serious health issues. Parabens have also been found in breast cancer tissue.
Phthalates (pronounced THAL-lates) are plasticizers – they make plastic more pliable. For example, in cosmetics, phthalates are used to make fragrances stick to skin, styling products malleable, and nail polish bend and stick to the curve of your nail. Phthalates are thought to block signaling pathways for hormones like testosterone, and have been linked to birth defects. Like parabens, there are many kinds of phthalates (the ones used in cosmetics are abbreviated as DBP and DEHP), but since they don't often appear on ingredient labels, they can be tricky to avoid.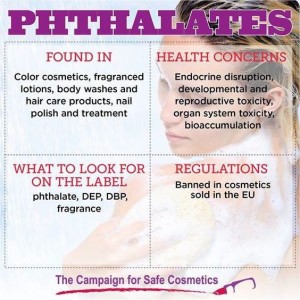 Yeah, but does it really matter to my health?
A study out of UC Berkeley (published March 2016) looked at four hormone disrupting chemicals commonly found in cosmetics, shampoos, and other body care products. They looked at Phthalates, Parabens, as well as Triclosan (an antibacterial agent), and Oxybenzone (found in most conventional sunscreens).
100 girls stopped their normal personal care products and swapped them for products that did not include these four ingredients on the labels.  After only 3 days (THREE DAYS!) urine tests showed a drop of 25-45% in their bodies of these four chemicals!!
Does what we put on our skin matter?
Yes it does.
At Lewis Family Natural Health, we have partnered with a personal care products company called Beautycounter that not only pledges to not use any of these harmful ingredients in their skin care products, but also is working on changing our federal legislation to try and provide more broad-spectrum protection for all products in the marketplace.
To learn more:
View our article on Skin Care Safety
Join Dr. Kristina's Beautycounter Skin Care newsletter list
Visit the Beautycounter website today
Sources:
Beautycounter.com: Just the Facts: What is an Endocrine Disruptor
Beautycounter.com: Know Everything: Mia Davis on Endocrine Disruptors