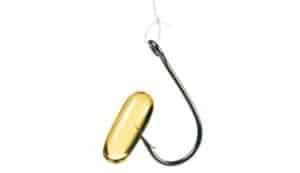 The focus of this article is to teach you how to purchase effective and safe fish oil.
Yes, we said safe.
Poor quality fish oil may not just be a waste of your money, but may actually be dangerous for your health!
Below we've detailed some of the issues to look out for when choosing a good fish oil supplement.
Is your fish oil high quality and naturally processed… or manipulated with chemicals?
How to Reap the Natural Health Benefits of Your Fish Oil Supplement.
During the first step in fish oil production, oil is taken from the tissues of fatty fish and then processed into the supplements that you take.
Natural fish oil and other natural fats occur in triglyceride form and their fatty acids are bound to a glycerol backbone.  Prior to processing, a natural fish oil in its triglyceride form will contain a mixture of long and short-chain fatty acids bound to the glycerol backbone.
Put another way, the fatty parts of fish in their natural state are a jumble of different types of fatty acids, all attached in various combinations to a molecule of "glycerol," an organic compound composed of carbon, hydrogen, and oxygen.  This "glycerol" is where we get the term "triglyceride."  In order to separate and concentrate the EPA and DHA (the omega-3 fatty acids that have so many health benefits), supplement manufacturers have to separate out the EPA and DHA from all the other types of fatty acids present in the fatty parts of the fish.
Unprocessed fish oil contains fairly low amounts of EPA and DHA (only 10-20% of the total fatty acids).  Without this separation and concentration, you would have to take many, many more pills or teaspoons of a fish oil supplement to receive the full health benefits.
The way manufacturers do this, however, varies, and is an important distinction in choosing a high quality fish oil supplement.
Some companies will use chemicals such as solvents to remove the essential fatty acids from the rest of the fat, then distill out the pieces they don't want, and synthetically piece it all back together, creating an unnatural essential fatty acid that is different from what occurs in nature.
Other companies use alcohol to remove the unwanted pieces, then put them back together in combination with ethanol.  Still others use excessive heat, which can destroy the natural fish oil.  In all these scenarios, a synthetic molecule is created but it may still be labeled as "natural."  For those of you familiar with how olive oil is created, or have read our past articles on this subject, you can see the similarity in how the processing of the oil can make a big difference in the quality of the final product.
A better way of processing fish oils used by high quality supplement manufacturers are to concentrate the long-chain fatty acids (EPA and DHA) in the fish oil without the use of alcohol or chemical solvents.  Methods used by well respected companies include using water and clay filters as well as an enzymatic molecular distillation process, eliminating the need to use chemicals or heat.  Another company we recommend uses natural lipase enzymes (the same enzymes our pancreas creates to help our bodies naturally break apart fats) to remove just the shorter chain fatty acids from the fish oil triglyceride, leaving the EPA and DHA untouched.  This process mimics the first stages of our natural digestive process, producing a concentrated fish oil that looks just like what would be created by nature.
Naturopathic Doctors Say Be Aware if Your Fish Oil Smells or Tastes like Rotten Fish!
Another way to tell if your fish oil supplement is of high-quality is by the smell and taste.  Good products will be palatable, lacking fishy odors or aftertaste.  Bad fish oils often smell like low-tide, like rotten fish, like a fish market.  They may also taste disgusting, and lead to belching of fishy odor for hours after consumption.  No wonder so many people don't like to take their fish oil!!
The reason for this may be from poor quality original ingredients, particulates such as protein that haven't been properly filtered, or rancidity due to unstable products that haven't been properly preserved.  Occasionally this side effect is seen in patients who have suboptimal digestive functioning, and may have nothing to do with the fish oil supplement itself.  In general, quality fish oils should taste fresh, and shouldn't cause any aftertaste or belching.
Environmental Contaminants:  Natural Health Concerns About Mercury and Other Toxins in the Fish Supply
When the production of fish oil starts, whatever toxins were in the fish are still in the fish oil at this point. Many fish are contaminated with toxins such as mercury, PCBs, and other dangerous substances.  Good companies that care about health will choose fish with lower levels to start with, then also remove these substances through molecular distillation. But some do not.
This issue of environmental toxicity is really the #1 holistic health concern and the main reason you really want to make sure you are consuming high quality fish oil.
The most important groups of environmental toxins found in fish are polychlorinated biphenyls (PCBs), dioxins, and heavy metals including mercury.  These toxins from our environment are incorporated into the fat of fish and other small animals in the food chain and then passed on to humans.  These also build up in fish, but can be removed from fish oils by molecular distillation and should be present at low levels in good quality products.
The Dangers of Mercury
Lets pick on mercury in particular.  Although many studies have shown that fish oil has many health benefits, including benefits to the heart, several studies have shown that the high mercury content in cold-water fish cancels out the cardiovascular benefits of eating fish! (3, 4, 5)
Another study (5) cited that simply eating enough fish to consume enough of the daily recommended EPA and DHA intake is nearly impossible due to concerns of toxicity.  The authors cited the "recommended level of EPA+DHA intake cannot be achieved solely from farmed or wild salmon while maintaining an acceptable level of carcinogenic risk." (5)  The study authors suggested focusing on wild salmon, and supplementing with a fish oil supplement.  Other studies also suggest that supplementing with fish oil is safer than eating fish. (8, 9)  This is because a properly prepared fish oil supplement can filter out the toxins that just can't be done with a whole fish.
On the other hand, a poor quality fish oil supplement can just super concentrate the toxins, making the supplement actually dangerous.  These companies may use a chemical solvent to remove these toxins, or they may not independently verify the purity of their product.  They may also use the wrong kind of fish in the first place, ones from fish farms (which tend to have higher toxic levels), or ones who are old, cheap, or that are not naturally high in the omega-3 fatty acids.  All these steps lead to creating a cheaper product.  But fish oil is definitely a supplement to apply the principle of "you get what you pay for" and going for the bargain basement fish oil supplement can actually harm you.
To find a good fish oil source, use a company that starts first with excellent quality fish from pristine waters, not from fish farms.  Many good companies choose to use smaller fish because they are less likely to be contaminated than larger fish.
Then ask to see their environmental toxicity test results conducted by a third party laboratory.  We frequently ask to see these reports from the fish oil supplements we recommend to ensure they do not have any toxins present.
Are You Getting Enough of Your Fish Oil Supplement to Do Your Health Any Good?
Many times we read the labels on fish oil supplements our patients bring in and see the amounts of the active omega-3 fatty acids, known as EPA and DHA, are negligible and not present in high enough amounts to provide any health benefits.  Depending on the person, patients often need 5-20 times more than is found in the average over-the-counter fish oil supplement.  If you don't consume enough of these valuable essential fatty acids, the supplement is just a waste of your money.  You really need therapeutic levels to see health benefits.
However, just because a fish oil is advertised as "concentrated" does not mean it will contain enough of the omega-3 fatty acids for you to receive true health benefits.  It's not the oil itself that matters most; it is the amount of omega-3 fatty acids you find in the supplement (specifically DHA and EPA omega-3).  A fish oil supplement can be highly concentrated, but without high levels of omega-3s, it doesn't contain all the health-giving properties of fish oil supplements.
If your fish oil says "1000 mg of fish oil" read the breakdown of the DHA and EPA on the label.  Many supplements will only have small amounts of these active ingredients despite the claim that the supplement is "concentrated."  The more EPA and DHA in your supplement, the more available the nutrients will be to your body.  And if a brand doesn't specify the EPA and DHA amounts, it may be because they don't want you to see how small the amounts are—you would be best to look elsewhere!
Can You Trust Labels? How to Ensure You Get the Maximum Holistic Health Benefits from Your Fish Oil Supplement.
Now that you know what to look for, it should be easy to go out, read the labels of various fish oil supplements, and make good choices.  Right?  Wrong!
There are no regulations in place to enforce any sort of label claims.  Many fish oil supplements claim to be "pharmaceutical grade" with "no detectable toxins."  They may say they are "extra-distilled," "high-potency," "natural," and "ultra-pure."
The problem is that none of these claims are regulated in the United States, so in reality any fish oil manufacturer can say anything they want about their product!  This makes it very difficult as a consumer to know how to identify a good fish oil and a bad fish oil.
The Naturopathic Conclusion About Buying Fish Oil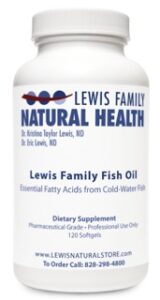 It is very important to take high quality fish oil products, and not purchase the bargain-basement brands.  Questions of environmental toxicity, therapeutic value, and chemical contamination make this a supplement you really want to make sure you are getting with the best possible quality.
For ideas about safe, beneficial brands, ask your local naturopathic physician.  Companies who work with licensed naturopathic doctors hold themselves up to the high standards as set forth in this article.
We have our very own fish oil supplement that meets the criteria set forth in this article. Learn more about the Lewis Family Fish Oil supplement.
---
Sources
Marz, Russell, ND.  Medical Nutrition from Marz, 2nd Edition.  Portland, Oregon: Omni-Press, 1999.

Gatpandan, Nelda, Account Executive at Genestra/Seroyal.  Emails to Dr. Kristina Lewis, May 6 and June 26, 2009.

Foran SE, Flood JG, Lewandrowski KB. Measurement of mercury levels in concentrated over-the-counter fish oil preparations: is fish oil healthier than fish? Arch Pathol Lab Med, 2003; 127(12):1603-1605.

Virtanen J, Voutilainen S. Mercury, Fish Oils, and Risk of Acute Coronary Events and Cardiovascular Disease, Coronary Heart Disease, and All-Cause Mortality in Men in Eastern Finland. Arteriosclerosis, Thrombosis, and Vascular Biology 2005;25:228.

Foran JA, Good DH, et al. Quantitative Analysis of the Benefits and Risks of Consuming Farmed and Wild Salmon. J. Nutr., 2005;135:2639-2643.

Leslie G Cleland, Michael J James, and Susanna M Proudman. Fish oil: what the prescriber needs to know.  Arthritis Res Ther. 2006; 8(1): 202.

Perlmutter, David, MD.  What are Environmental Toxins? April 2008: www.omega-research.com.

Melanson SF, Lewandrowski EL, Flood JG, Lewandrowski KB.  Measurement of organochlorines in commercial over-the-counter fish oil preparations: implications for dietary and therapeutic recommendations for omega-3 fatty acids and a review of the literature.  Arch Pathol Lab Med. 2005 Jan;129(1):74-7.  Clinical Laboratories Division, Department of Pathology, Brigham and Women's Hospital and Harvard Medical School, Boston, MA, USA.

Foran SE, Flood JG, Lewandrowski KB.  Measurement of mercury levels in concentrated over-the-counter fish oil preparations: is fish oil healthier than fish?  Arch Pathol Lab Med. 2003 Dec;127(12):1603-5.  Division of Laboratory Medicine, Department of Pathology, Massachusetts General Hospital and Harvard Medical School, Boston, Mass 02114, USA.