Your makeup and color cosmetics may contain heavy metals, such a Lead, Cadmium, Mercury, and Arsenic. Yikes!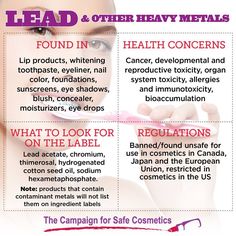 Exposure to heavy metals in cosmetics is an important piece of the environmental health puzzle. The first and best way to lower limits of heavy metals in your body is to not put them in your body in the first place.
Easier said then done. It's hard to avoid heavy metals in our food supply and in our environment, even when we make as many good choices as we can. One of the only things you really do have complete control over is what products you choose to put on your skin. And for women, it goes one step further to include what we use everyday in the form of makeup.
For the most part, cosmetics companies are not intentionally using heavy metals as ingredients in their products. They aren't actively trying to poison us. They don't sit around big round tables, cackling and thinking up ways to poison their consumers.
But…heavy metals are frequently found in makeup because in order to make color cosmetics have color, companies need to use something to make color. And the colorants used most commonly by companies are often contaminated by heavy metals.
The legal limit allowed for heavy metals in cosmetics is so high it's almost laughable, and many companies don't even test for contamination.
Many people are surprised to learn that even natural makeup brands often have heavy metals in them! This is because natural colorants come from the earth, and in the ground, heavy metals are present and may randomly attach to the intentionally mined ingredients. Many companies don't even realize they have heavy metals in their products.
This is part of why we are such a big fan of Beautycounter as a great source for heavy metal free cosmetics. To the best of our knowledge, no other cosmetic company in the world tests for heavy metal contamination to the extent that Beautycounter does.
Here's a great infographic from Beautycounter to help explain this unhealthy mix of heavy metals and color cosmetics:

Learn More About What Naturopathic Medicine Can Do For You
We recommend that all potential patients take advantage of our free 15 minute consultation, either in our office in person or over the telephone, in order to see if our office is right for you.
If you are interested in a more natural and holistic approach to your skin's health, please contact us to set up a free 15 minute health consultation with one of our naturopathic doctors.
[maxbutton id="3″]
We look forward to hearing from you & seeing how we can be of service to you!