Traditional herbal medicine and modern scientific research both show a vast array of turmeric medicinal properties. Turmeric is nature's best anti-inflammatory!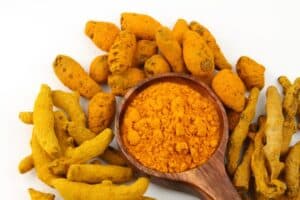 How is the best way to take turmeric? This is a common question when it comes to supplementing with this potent inflammation reducing natural remedy.
Turmeric and its active constituent Curcumin have long been highly researched herbal remedies.  Additionally, this beautiful, yellow-orange colored herb has been a staple of many cultures' diets for centuries as a flavorful spice.
I must admit, my mouth waters at the thought of curry sauces from Indian, Thai, or Asian meals! Turmeric powder is a key ingredient for these fine, savory dishes.
While it is one of our favorite culinary spices, our digestive tract is not the ideal absorptive surface to ultimately receive the best of turmeric's medicinal properties.
Turmeric Medicinal Properties
To benefit from the medicinal properties of turmeric, the digestive system may not be the best solution for how to take turmeric.  While curcumin is known to impart a beneficial effect upon digestion, it is a well established fact that turmeric absorption (and eventual bioavailability) is quite poor in the gut.  Our understanding is that around only 5% of turmeric is absorbed.  This is not good!
To ultimately receive a health benefit of turmeric, this means that the amount of curcumin in an oral dose (via capsule, tablet, powder, or tincture) has to be quite high… which may get a bit pricey.
Fortunately, we feel we've found a better way to take turmeric, so be sure to keep reading as we've saved the best for last!  🙂
Traditional and historic uses of turmeric suggest that this remedy possesses a treasure trove of benefits.  Modern scientific research has spent a great deal of effort to learn more about the potential medicinal properties of turmeric, including:
Anti-Inflammatory
Anti-Oxidant
Anti-Viral, Anti-Bacterial, Anti-Allergy Immune System Support
Enhances Cognitive Function
Balances Hormones
Encourages a good night's sleep
Promotes energy
Supports healthy, youthful skin
Additionally, it is thought to possess anti-aging properties!
Clearly, there are a lot of benefits of turmeric extract!
Health Benefits of Turmeric
Even a quick glance at the research shows that there is a massive potential health benefit of turmeric.  Primarily, curcumin's anti-inflammatory effect is thought to be a major reason to its success as a natural remedy.  At our office, we like to refer to turmeric as "Nature's Anti-Inflammatory."
When we look at curcumin, we see the benefits of turmeric extract in its historical use for conditions that have inflammation as an underlying cause: cardiovascular, joint and musculoskeletal, digestive, metabolic, hormonal, and immune to name a few.
We have observed the benefits of turmeric both personally, and in our patients.  I am a big fan of using it at night before bed to help assist a good night's rest.  Inflammation often peaks overnight, so we feel that it only makes sense to try it before bedtime.
Herbal Turmeric Cream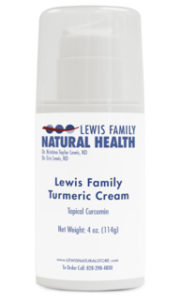 Often times, a topical cream is a better way to absorb the nutrients through the skin.
That's why we have the Lewis Family Turmeric Cream— the ideal solution for how to take turmeric!
For years, we wanted to incorporate curcumin into our list of suggestions yet were hesitant to do so given the poor absorption of turmeric.  This problem was instantly solved when we discovered our herbal turmeric cream.
The Lewis Family Turmeric Cream is easily, conveniently, and cleanly applied to the skin.  This topical application makes for superior absorption, enhancing turmeric's medicinal properties.
I hope our excitement for this turmeric cream is palpable… it's not often that we come across a natural remedy that's safe, effective, practical, and innovative- all at once!
I have been faithful with my use of your fantastic TURMERIC CREAM and I swear my overall good health and sense of well-being are a direct result! I apply the cream at night and my sleep seems to be so much improved. I no longer awake in the early a.m. hours. There is a very pronounced sense of calm that I have learned to expect from the Turmeric Cream. In general, I simply feel better and face each day with a stronger resolve to achieve maximum health and enjoyment. – Nick W., New York, New York
Click through here to get your Lewis Family Turmeric Cream