As naturopathic doctors, we spend a lot of time thinking about our patients' "buckets" in helping to restore health to the body. Our patients have told us they love our "Bucket Analogy" as a great way to explain an important concept in naturopathic medicine: why such seemingly small substances may make a big impact on your overall health.
What goes into your Bucket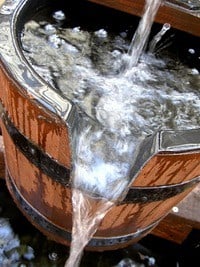 Think of your body as a bucket that slowly fills with increasing exposure to allergens, toxins, and stressors.
Every time you make a poor food choice, you breathe in pollution, or you are exposed to toxic chemicals, it goes in your bucket.
Other things that go in your bucket are emotional and mental stresses—worry, sleepless nights, anxiety, depression, anger—all of these are dumped in your bucket as well.
You were born with a pretty big bucket. And it may take a while to fill up. This is why you may not instantly become ill the second you eat a candy bar, or why you can drive down the highway exposed to diesel fuel and not become violently ill. You may be able to handle the day-to-day stress in your life and not become incapacitated.
If the only stress in your life was an intolerance to milk, for example, it would most likely be tolerable.  Most people, however, have multiple stressors at the same time.  So drinking that milk while eating a meal with 10 other food sensitivities, then driving in traffic with automobile exhaust while feeling upset by financial stress all while running late for an important meeting… now there is a recipe for adverse reactions due to too much in the bucket!
Your Body Naturally Wants to Help
Our bodies (specifically the liver, kidneys, skin, lungs, digestive system, and other organs of detoxification) are constantly trying to drain the bucket and reduce the overall toxic burden.  But sometimes it's hard to keep up, and the level rises.
You may find that stresses that you used to be able to handle now seem to bother you much more than before.  The chemicals in your skin cream never used to bother you, but now they are causing a rash.  That ice cream used to be just fine, but now it hurts your stomach.  Insomnia that used to be just a minor annoyance now knocks you to the ground.
It's why the smallest thing may suddenly become the straw that breaks the camel's back.
Too Much = Overflowing Bucket
When too much is put in your bucket, it may eventually start to overflow. If the bucket starts to overflow, it may manifest as health conditions such as allergies, asthma, digestive problems, muscle and joint pain, mental/emotional issues, autoimmune diseases, or even heart disease and cancer.
As naturopathic doctors, we spend a lot of time thinking about our patients' "buckets" in helping to restore health to the body.  This bucket analogy explains an important concept in naturopathic medicine to help explain why such seemingly small substances, changes, or stressors may make such a big impact on your overall health.
How to Fix Your Bucket
The solution is to first reduce the amount of substances being put into your bucket, and second, to assist the drain at the bottom to lower the level.  Otherwise, these stressors start to accumulate in the body faster than the body can remove them and your bucket overflows!
Fortunately, this means the reverse is also true–recovery occurs when the total load is reduced below that threshold.  If you can get the level of your bucket back down to a normal level, you will start to feel good again!
Learn More About What Naturopathic Medicine Can Do For You
If you are interested in a more natural and holistic approach to fixing your own bucket, please contact us to set up a free 15 minute health consultation with one of our naturopathic doctors.
We look forward to hearing from you & seeing how we can be of service to you!