Did you know that consumer safety studies have shown that 4 out of 5 sunscreens on the market contains harmful chemicals? And that up to 70% of sunscreens contained questionable or misleading claims on the bottle? What if the very sunscreen you are putting on your body to protect yourself from cancer contains carcinogenic compounds?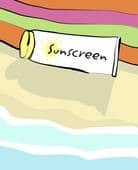 With the summer just around the corner, we hope you are as excited as we are for bright sunny days, long leisurely hikes through the mountains or through the sand at the beach…time spent outside enjoying the beauty and warmth of summer sunshine.
But what about the dangers that comes along with too much sunshine?  Sunburn, skin cancer, wrinkles, premature aging…we've all been taught to protect our skin from the harsh rays of the sun or else suffer the consequences.  So for the past years, many of us have heeded these warning and have been lathering up, head to toe, with minimum SPF 970 sunscreen to stay safe from the dangers lurking from above.
A Naturopathic Doctor's Opinion on the Importance of Wearing Healthy Sunscreen
The Environmental Working Group (www.EWG.org), the same excellent organization responsible for researching and publishing resources such as The Shopper's Guide to Organic Produce, also creates an annual Shopper's Guide to Sunscreen.
Every year, EWG studies more then 1000 sunscreens currently on the market and evaluates the products based on three major criteria:
How much protection the sunscreen offers against UVA and UVB rays
How quickly the sunscreen breaks down
How many toxic ingredients or harsh chemicals it contains
According to EWG's study, four out of five sunscreens on the market fail to properly protect the skin or contain harmful chemicals. Popular brands such as Banana Boat and Coppertone received poor ratings from EWG, as did brands like Almay and Neutrogena, which are advertised specifically for people with sensitive skin.
Most sunscreens fail to achieve high ratings from EWG for the following reasons:
The sunscreen does not provide UVA and UVB protection.  (The Sun Protection Factor (SPF) is designed to measure UVB protection ONLY).
The sunscreen breaks down too quickly and skin is not protected.
The sunscreen contains harsh chemicals that are absorbed into the blood and can lead to other health problems.
Why should we be concerned about these things?  As naturopathic doctors, we are concerned about problems with popular sunscreens because they do not do what they are supposed to:  protect the skin from damage or aging.
UVB and UVA Rays
UVB rays, the ones that are considered for an SPF rating, are dangerous because they are absorbed by the superficial layer of skin and can cause sunburn and potentially skin cancer. UVA rays, the ones not considered for SPF, affect the deeper layers of skin but can also cause skin aging and skin cancer.  According to the EWG, 7% of sunscreens do not prevent UVA.
Rapid Breakdown and Limited Coverage
Additionally, 44% of analyzed sunscreens experience partial or total breakdown within minutes or hours, which means although the sunscreen offers some protection, the protection is not guaranteed over time.
Concerns About Sunscreen Chemicals
Naturopathic doctors and other professionals in the holistic health care field have many safety concerns in particular about the chemicals used in sunscreen. Some common ingredients have been linked to hormone disruption and the onset of allergic reactions. In addition there are no safety studies that evaluate the interaction of these chemicals and their effects when combined with many other chemicals we are exposed to in our environment like pesticides, herbicides and plastics.
Questionable Product Claims
Due to the possible side effects of chemicals it is important to be aware of questionable product claims regarding sunscreen.  FDA regulations currently are not complete, therefore there is no oversight about common claims.  Statements like "All Day Protection," "Broad Spectrum Protection," "Waterproof," "All Natural," and "Chemical Free" must be carefully investigated.  According to EWG, 70% of the sunscreens studied contained a questionable or misleading claim on the bottle!

What should I do now to make safe sunscreen choices?
Well, don't fret—EWG not only looked at the sunscreens that failed to protect, but they also found a few great choices that are safe and do meet label claims.  Follow this link to The Shopper's Guide to Sunscreen for their best sunscreen recommendations.