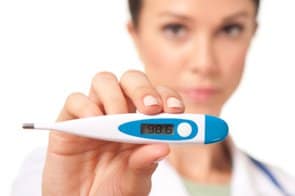 Did you know there is a strong connection between thyroid function and body temperature, and that this link may mirror your overall health and well-being?
If your body temperature is colder than it should be, you may be struggling with your health.
Does this news make you feel even chillier? It very well might hit home with you. So many people have shared with us how cold their bodies feel- either the coldness that they experience internally, or even how they are cold to the touch.
It is no longer surprising to be told that an individual has to wear a sweater in the summer time or that extra blankets on the bed are necessary to keep warm at night. If you're a warm-blooded "space heater" of a person, we're telling you that you're a hot commodity.
Normal body temperature should be at or around 98.6 degrees, and our temperature tends to rise after we eat and as the day goes on. Because of this, the best and most consistent time to measure your temperature is first thing in the morning, even before you get out of bed. This is why it is referred to as your Basal Body Temperature (BBT); it's your base temperature as you start your day.
However, most people we talk to are nowhere close to 98.6.  Women especially seem to run cooler (even when accounting for the natural differences during the stages of the menstrual cycle).  When we ask people who have measured their BBT what numbers they see, common answers we hear include 97.5… 97… even some in the 96's or 95's!  Yikes!
The Link Between Thyroid Function, Metabolism, and Body Temperature
BBT has a strong relationship to our metabolism and our thyroid health, and this relationship reflects our overall state of health and well being.
Metabolism is best defined as the sum total of all life-sustaining chemical reactions within the cells of the body.  Metabolic energy creates, builds, and defines our structure while it simultaneously determines the healthy functions of our bodies.
Digestion, hormone balance, nervous system and immune function are all dependent upon the energy generated by our metabolism.
And because a significant function of thyroid hormone is to stimulate and regulate our metabolism, the health of our thyroid is critical to so many aspects of our overall health.
This metabolic energy generation has another important function, namely heat production.  As we make energy at the cellular level, we create heat.
So if our thyroid hormones stimulate metabolism, and our metabolic energy produces heat, then you can see how our body temperature can serve as a gauge of our thyroid and metabolic health.
Classic Signs and Symptoms of Low Thyroid Function
If people were like textbooks, then individuals with low thyroid function would all experience:
Low energy
Weight Gain
Constipation
Dry Skin
Intolerance of the cold
Low pulse rate
And yes, a number of people experience these symptoms, however…
The problem is we're not all from a textbook.
Researchers and physicians who have taken a keen interest in the thyroid gland have noticed other signs and symptoms of poor thyroid function that go beyond the "classic" signs and symptoms that doctors learn about in medical school:
Muscle aches, pains, or weakness
Joint pain and/or arthritis
Irritability, depression, and anxiety
Poor memory and insomnia
Low appetite (even with weight gain)
Hypoglycemia (Low blood sugar sensation)
Frequent colds and flus
Poor reflexes and slow healing
Inability to handle stress
Do any of these (wide-ranging) symptoms sound familiar to you?  If so, you're not alone!
Low thyroid function is one of the most common underlying causes of illness in our experience.
Wait, but why does our thyroid function begin to suffer in the first place?
A full list of reasons why our thyroid function (and, in turn, our metabolic rate) diminishes would be very long.  However, some of the most common reasons why we see this in our patients include:
Stress
Infections (both acute and/or chronic)
Chronic Inflammation
Poor sleep
Hormonal Imbalance (ie. Estrogen-Progesterone Imbalance, Adrenal and Steroid Hormone Health)
Blood Sugar Problems
Post-Pregnancy
Harsh Dieting (especially low carb or low calorie diets)
Excessive Exercise (either "cardio" or "high intensity" training)
Simple, Safe, Effective Ways to Support Your Thyroid Health
If you suspect your metabolism may be suffering, here are some steps you can take:
Check BBT: Measuring body temperature can be a simple, easy, and reasonably reliable way to predict thyroid and metabolic function.  First thing in the morning before you get out of bed is best for consistency sake.
Red Light Therapy: See our article on the wide ranging benefits of Red Light Therapy.  Infrared light is a very safe, yet very effective way to support thyroid and metabolic energy generation.
Avoid harsh dieting and excessive exercise: A common concern with chronically low carb and/or low calorie intake is metabolic suppression.  Likewise, exercise beyond your level of fitness stresses our reserves and can diminish our metabolism.
Stress Reduction: Stress can really damage your thyroid gland.  Taking steps to reduce stress can help your thyroid.  Healthy exercise, walking, getting fresh air, meditation, feelings of gratitude, being creative or artistic, listening to music, taking a warm bath or sauna…in other words, anything you like to do that makes you feel good and relaxes you!
Become a Naturopathic Patient: Thyroid and Metabolic health are two of our specialties here at Lewis Family Natural Health.  We have numerous natural remedies to help your thyroid and metabolic function.  Contact us today to learn more about how we can help create a customized plan for you.
---
References:
Powell, Dirk Wm. Endocrinology & Naturopathic Therapies. 6th Ed. 2004