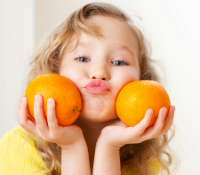 In an ideal world, kids acquire all the nutritional fuel they need from a healthy, balanced diet. But even with such a diet, there can still be nutrient deficiencies due to exposure to environmental toxins, illness, or poor health habits and lifestyle choices. Or, if your child is following a special diet that includes restrictions, they may be accidentally missing essential nutrients that come from a less restrictive diet. And, let's not forget that many children are picky eaters, so even when presented with the ideal meal, they may or may not choose to actually eat it!
Just like adults, children may benefit from vitamin and mineral supplements. However, children's metabolism and their immune, digestive, and central nervous systems are still maturing, so the effects and side effects of supplements can differ from those seen in adults. This is especially true for infants and young children. When considering nutritional supplements for youngsters, it's important to seek a trusted source to increase the likelihood that the product has been properly formulated, labeled, and has gone through quality assurance testing.
A basic supplement regimen for children may include:
Multivitamin: Look for one free from fillers, toxins, and added sugar. Popular brands, such as an unnamed-caveman-cartoon character, are filled with many additives and artificial colors that are not a good idea to consume.
Omega 3s: Look for omega-3 fish oil supplements that have been independently tested for heavy metals and PCB (a man-made manufacturing substance and known cancer-causing agent banned in 1979 that may still be present in some manufacturing processes).
Probiotics: Ideally contain 10+ billion, multi-strand organisms.
Vitamin D: Current guidelines suggest 400-600 IU. Please be aware that sometimes over supplementing with Vitamin D can be just as harmful as too little Vitamin D, so exercise caution. When it comes to Vitamin D, more may not actually be better, despite current popular thought.