Homeopathy is a system of healing which uses small non-toxic amounts of natural substances to stimulate a healing response and is a specialty of Dr. Kristina. It is a unique system of medicine that has been used by millions of people worldwide for hundreds of years.
A homeopathic remedy is made from a highly-dilute natural substance and works to stimulate the body's own self-healing mechanisms. It is non-toxic and essentially free from side-effects.
Homeopathic medicines are one of the few natural remedies that must meet strict FDA safety regulations. They are safe for infants, the elderly, and pregnant women.
Homeopathy is based on the principle that "like cures like," which means that a substance that can cause symptoms in a healthy person, can stimulate healing of similar symptoms in a sick person. This concept was developed by a German physician, Dr. Samuel Hahnemann, in the late 1700s, but the concept dates back to the time of Hippocrates.
Each individual possesses the inherent ability to heal. For example, when you cut or scrape your skin, the wound heals naturally even if you don't actively try to help. In contrast, when a car door gets dented, it cannot fix itself. This amazing ability of the body to heal itself is innate and homeopathy helps maximize this natural process.
Homeopathy offers individualized treatment based on a person's physical, mental and emotional symptoms. The choice of a homeopathic remedy depends on the unique characteristics of each person. Homeopathy doesn't actually treat disease, but instead helps to heal the person who is sick.
Great introductory book on homeopathy
Homeopathy: Beyond Flat Earth Medicine: An Introduction for Students and Patients, By Dr. Timothy Dooley, ND, MD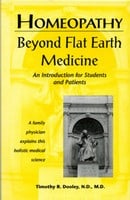 This easy-to-read book is the best all-round introduction to homeopathy available. Dr. Dooley intersperses stories from his twenty years of training and experience as he explains what homeopathy is, how it differs, when to use it, what to expect, how to get results, and what is needed for success in treatment. Highly recommended by homeopathic practitioners.
We have print copies of this book available at our office, or you may download and read the first edition for free here.