Discount Lab Testing by DirectLabs®
Accurate, confidential, and inexpensive lab testing service is available from DirectLabs®.
Order your own tests without a doctor's order and pay pre-negotiated discounted rates.
The Importance of Lab Testing in Understanding Health
Laboratory testing is essential for many reasons. But sometimes it's not easy to get the tests you need.
For many people, getting lab tests ordered by their physician and covered by insurance is the easiest and most effective way to learn about different markers in the body that indicate overall health.
But some people don't fit the typical profile of a someone who might need a certain test, so their healthcare practitioner doesn't think it's necessary and won't order testing.
Perhaps your doctor may not be familiar with the type of testing you're looking to get.
Or maybe your insurance coverage isn't adequate or you have no insurance at all, and you wish you could pay a pre-negotiated rate instead of being charged inflated insurance prices.
In these cases, we have an alternative option to provide.
We've partnered with DirectLabs®, an accurate, confidential, and inexpensive provider of direct-to-consumer lab testing (available in the USA only).
DirectLabs® is a fantastic way to test your labs, including the highly popular Comprehensive Wellness Profile, a panel that screens for cardiovascular risk, major organ function, anemia, diabetes, infection, blood disease and other indications of illness.
Lewis Family Natural Health on DirectLabs.com
Accurate, confidential, and inexpensive lab testing is available from DirectLabs®.
Here's how it works:
Click on the following link to be taken to Lewis Family Natural Health's page on Direct Labs.
Click on the "Order Tests" button at the top left of the page to view common tests our patients find beneficial.
Select which test(s) you would like, and DirectLabs® takes care of everything. They make it easy!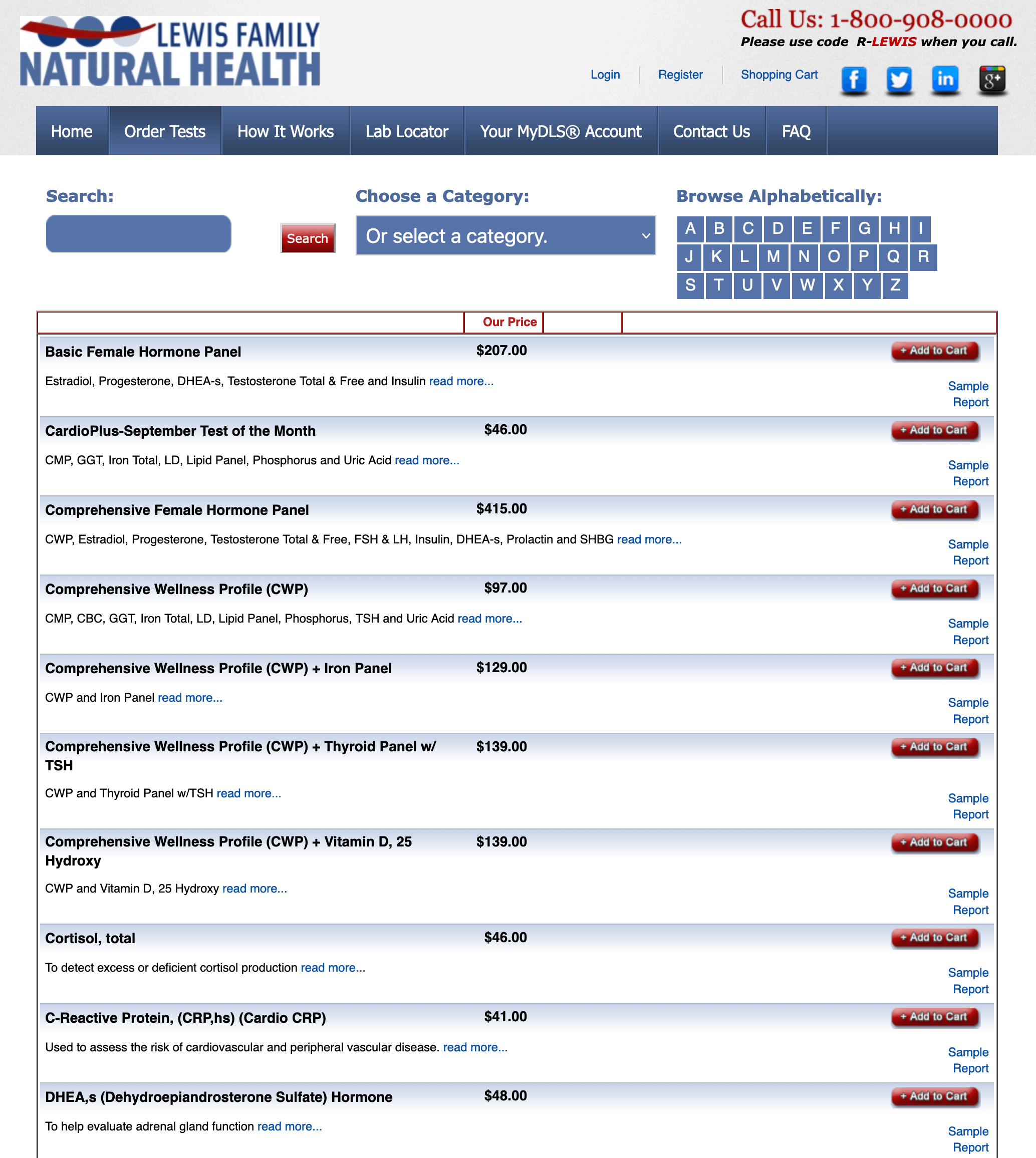 Affiliate Disclosure: This page contains affiliate links, which means Lewis Family Natural Health may receive a percentage of any product or service you purchase using the links in the article. We only recommend services that we have personally used, know, and trust to be of the highest quality and integrity. You will pay the same price for all products and services, and your purchase helps support our practice. Thank you for your support!