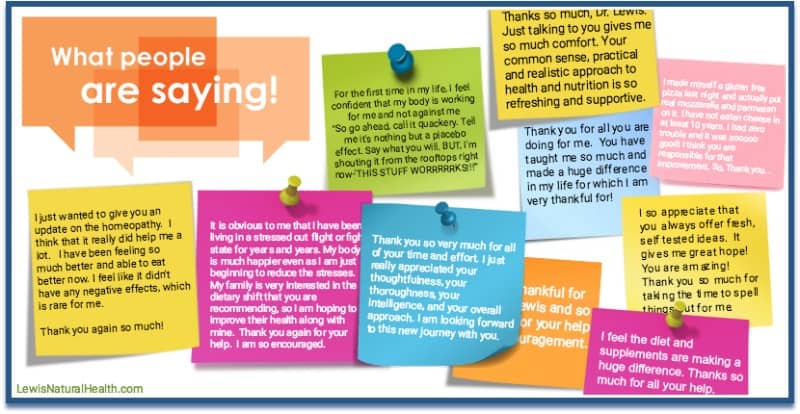 Dr. Lewis – Thanks for all of the info – it's been very helpful and I appreciate all the effort you've put into this…it's wonderful to finally feel like I'm making progress towards a healthier, more energetic life.
-MM, 35 year old female, Asheville
---
Hello, Dr. Eric. Thanks so much for taking me on as a new patient – I was hesitant to visit a natural doctor, as sometimes they can be quite hocus-pocus or something :). From the initial call and all the way through our consultations, I have been impressed with your down-to-earth, scientific, knowledge approach to health…Thank you so much, for helping me reach my health goals, for learning all of this amazing health information, for caring about my specific case rather than just lumping me with some group. You are making a difference in my life, and I really appreciate it!
-SL, 30 yr old female, Dillard, Georgia
---
The pleasure of food and eating is one of the most basic joys in life. When the ability to consume and enjoy food is taken away, life is simply not worth living. I bless Dr. Eric Lewis for reinstating the joy of food and eating to my life. When I came to Lewis Natural Health, I had not enjoyed food for about nine years and my life, by my measure, was not worth living.
When I told a 'regular' doctor that for nine years I had constant extreme nausea, the response was, "How are you managing that?" I think that doctor had no idea what was wrong with me.
It was a different story at Lewis Natural Health. Dr. Eric knew just what was wrong and he guided me through the months and other simple measures that were irritating my stomach. I started with Dr. Eric in July of 2012. By August 2013, for the first time in almost a decade I sat down at the table and said, "Wow! I'm hungry." It had been so long since that particular message came from my stomach that I wasn't sure what 'hungry' felt like.
I am cured–able to enjoy food and eat, or not eat if I choose, without being dropped to my knees with unbearable nausea, late-night extreme vomiting, and heartburn. I cannot praise Dr. Eric and his practice enough.
So, if going to regular doctors has left you feeling abandoned and without hope, as I was, then prepare yourself for hope and health, for there still is healing and curing to be found–it's at Lewis Family Natural Health.
Dana McEndree
---
I have to say I am stunned at how well the hydrotherapy works. I can only say, wow . . . I can breath better, I actually am starting to have an appetite (miracle!) and I do seem to have more energy. Eating better is also interesting as when I look in the fridge, I am drawn to the fresher items vs the sugar fix I was craving before. Thanks for everything!
-MM, 43 yr old female, Asheville, NC
---
Thank you for all you are doing for me. You have taught me so much and made a huge difference in my life for which I am very thankful for! I feel the diet and supplements are making a huge difference. Thanks so much for all your help.
-WB, 56 yr old female, Moravian Falls, NC
---
Thanks so much, Dr. Lewis. Just talking to you gives me so much comfort. Your common sense, practical and realistic approach to health and nutrition is so refreshing and supportive.
-TM, 59F, Asheville, NC
---
Thanks so much for your insights today. I so appreciate that you always offer fresh, self tested ideas. It gives me great hope! You are amazing! Thank you so much for taking the time to spell things out for me. It is extremely helpful. I made myself a gluten free pizza last night and actually put real mozzarella and parmesan on it. I have not eaten cheese in at least 10 years. I had zero trouble and it was sooooo good! I think you are responsible for that improvement. So, Thank you…I am more encouraged by our work together than I have been in the 7 or 8 years I have been battling this "behemoth"! It is obvious to me that I have been living in a stressed out flight or fight state for years and years. My body is much happier even as I am just beginning to reduce the stresses. My family is very interested in the dietary shift that you are recommending, so I am hoping to improve their health along with mine. Thank you again for your help. I am so encouraged.
-CB, 49 yr old female, Hickory, NC
---
Thank you so very much for all of your time and effort. I just really appreciated your thoughtfulness, your thoroughness, your intelligence, your handouts, and your overall approach. I am looking forward to this new journey with you. I was so impressed by how much you knew and how much you had thought about things in advance. So much appreciated!
-ES, 37F, State College, PA
---
I came to Lewis Family Natural Health to improve my health overall and to have more energy and strength. I was taking vitamins, but did not know if what I was taking was right for me or was I wasting money on some. I wanted to take what I, as an individual, needed. The best part of the visit is that it is so in depth – and Dr. Lewis listened – what a novel concept. On an emotional level, I feel better knowing I am taking charge of my health. I am sleeping better and trips to the bathroom at night have decreased dramatically from 4-5 times per night to once per night maybe two times per night. I recommend Lewis Family Natural Health to others. Do yourself a favor and go.
-Carol G, Canton, NC
---
I've had a very positive experience working with naturopathic physicians. One of the things I value most about working with Lewis Family Natural Health is the personal attention I receive. I feel as though they are genuinely concerned about my health and well being. They do not hesitate to take the time to answer all my questions – even if they need to research the answers and call me at home.
In the past I have experienced health care practitioners who appear rushed and seem annoyed when I ask too many questions. Most often the only solution offered for my ailment is a prescribed drug with a minimal focus on lifestyle change or prevention of disease. I appreciate the naturopathic philosophy of treating the whole person and treating the cause not just attempting to suppress symptoms.
My treatment at their practice is individualized. They work as a team and refer to each other when appropriate. The high level of trust I have with Lewis Family Natural Health is unlike others that I have experienced with health professionals.
The main medical condition I came to Lewis Family Natural Health for has improved significantly. Several acute health issues have also been treated successfully over the past year and a half.
I definitely would, and have, recommended Lewis Family Natural Health to others. In addition to being bright, competent and caring physicians, the Lewises are cheerful, easygoing people who have a sincere interest in your wellness.
-C Krebs, Asheville, NC
---
I just wanted to give you an update on the homeopathy. I think that it really did help me a lot. It seemed to diminish my nausea each time I took it and I really did start to feel better overall. I have been feeling so much better and able to eat better now. I feel like it didn't have any negative effects, which is rare for me. Thank you again so much!
-MS, 29 yo female, Charlotte, NC
---
Hi Dr. Eric. Thanks for the link, and thanks for getting me started on a really sound plan! I appreciate all the time and effort you put into your work with your patients!
-JA, 44 yr old female, Asheville, NC
---
Thank you. I feel much better just knowing we are looking at all systems and I enjoy learning how all the system work together. This approach to my diverse problems makes so much more sense.
-MC, 34 yr old female, Asheville
---
I'm so happy because I didn't expect this much change in just 6 weeks! I have so much more energy, I am sleeping better, and I even am having dreams now which I never used to have!
-JF, 46F, Asheville, North Carolina
---
I really appreciate all the help I've received from your practice and feel it has really improved my health. I've been very happy with my treatment and your office. Thank you for you help and recommendations,
-ND, 29 yo female, Nashville, TN
---
I am so thankful for you Dr. Lewis and so grateful for your help and encouragement.
-MJ, 60 yo female, Asheville, NC
---
For the first time in 10 years, I have not had spotting (not even a drop) before my period started. I'm very thankful for that! However the mental part has bothered me the most, my anxiety, and now I mentally feel much better. It's the first time in a year that I'm feeling back to normal… A huge answer to prayer!
-AS, 36F, Asheville, North Carolina
---
I am writing to give a follow up to the first meeting with Dr. Eric Lewis. I would like to encourage Eric in the positive results of the first connection. I felt full of pain the evening I was there and felt the pain leave as I sat in the chair in you office. I thank you for your heart and understanding as I shared my issues. I am hoping that God continues Blessings you and your office with assistant new clients and current clients you are going to be helping. Thank you Dr. Eric.
-SC, 43M, Burnsville, NC
---
Hi Dr. Lewis, I just wanted to let you know that my daughter is doing so great since we had our appointment with you. We have been giving her the homeopathic remedy once a day (and we often forget) and all of her symptoms have virtually disappeared! It is quite incredible, so thank you so much 🙂
-EB, mother of a 3 year old, Asheville, NC
---
Hi Dr. Eric, I wanted to say that I am so glad that I found you guys. Even though I am not feeling completely better yet, I feel better than I have in……well, I can't remember when!
-AL, 32F, Asheville, NC
---
Thanks for the dietary tips and the additional reading. Very interesting indeed. Paradigms can be huge obstacles to progress where the pursuit of true understanding is concerned. We often find only what we expect to find; we receive what we expect to receive. Thanks again. Your words and ways are encouraging.
-IVH, 54 yr old female, Asheville, NC
---
Thanks so much! I again really appreciate your thoroughness and thoughtfulness.
-RN, 37, Asheville, NC
---
Hi Dr. Eric, Just an update on my daughter. She got her cycle on June 4 and had it for over a week. Thanks be to God and thanks to you too.
-DK, mother of a 15 year old (with PCOS and no cycle), Taylors, SC
---
I had a good experience at Lewis Family Natural Health. I really appreciated the time and attention given to each patient. The staff is very knowledgeable, helpful and friendly, and the setting is a relaxed atmosphere. I had good communication with Dr. Eric. He was very helpful, informative, and positive. The office is clean and comfortable. Overall, I had a very positive and encouraging experience.
-DS, 53 yr old man, Morganton, NC
---
My symptoms of menopause were so severe, they were interfering with daily life and work. I can now say after almost a year of treatment by Dr. Kristina, I am doing better than I have in 8 years. I tell everyone I know with health problems to go to Lewis Family Natural Health and those who have gone are as pleased with Dr. Eric and Dr. Kristina as I am.
-Debbie, Waynesville, NC
---
Dr. Eric: I want to thank you for everything you have helped me with. I have a large family with all the many joys, issues, and problems that go along with so many people. It takes a lot of energy to function in this environment. I have always thrived when there is much activity going on. The last few years, I did not feel like trying to keep up with everything. You are helping me regain energy and mobility that I need to participate. Thank you! Thank you!
-AV, Bessemer City, NC
---
Your office is comfortable and Dr. Kristina has a kind and caring personality. Dr. Kristina assessed and resolved my issues. Lifestyle changes have assisted in that resolution as well. She listened and assessed my situation with great professionalism. My experience as Lewis Family Natural Health was a very positive experience and I would recommend your services with no hesitation.
-Deborah Woodard, Asheville, NC
---
I felt that my experience at Lewis Family Natural Health was of being part of a team where I was an important, integral part of my own health. My input was shown to be important and Dr. Eric's research and knowledge put the plan to work for me. Dr. Eric was responsive and caring. Remedies and overall plan were thoroughly discussed. I appreciated that the doctor took time to listen and try to put things together to achieve my goals and treat me as a whole person.
-CS, Marion, NC
---
I was tired of being prescribed medicines that either didn't work or caused more pain with side effects. I have been seeking a balance within my body and knew that this was the right track to be on. Both Dr. Lewises have helped me go in that direction. Since I went through the allergy desensitizing with Dr. Eric Lewis I have been amazed at how much better I feel especially when I am exposed to allergens that used to bother me. I had many more food allergies than I ever knew of. Everyone needs to try this. It's unbelievable! Try Lewis Family Natural Health especially if you have seen traditional Doctors and have not had positive results.
-L B, Waynesville, NC
---
Dr. Eric is very easy to talk to. He seems to be very concerned about all my health problems and concerns. He explains things to me so I understand no matter what I ask. I have been so sick for so long. 13 years is a long time. Now I don't have to worry about food hurting me anymore. Words don't describe it. It's so awesome and I'm so happy. People are asking me what I am doing and I tell them I'm seeing Dr. Eric at Lewis Family Natural Health.
– LI, High Point, NC
---
What I enjoyed most was the time and attention given to me as a patient. I felt comfortable and was able to express myself and feel like Dr. Kristina really cared. Interaction with everyone has been good. Both doctors are very friendly and I am impressed with their knowledge and how they convey information to the patients. The secretary has been very nice on the phone and in the office. Visiting you is something I look forward to and not dread like I feel seeing a medical doctor. The office is very comfortable and a home atmosphere. I like the tea and water. Overall my experience has been very good. I feel encouraged about my health situations and most of all I am so relieved to find people that care and really want to help.
Dr. Kristina…you care…Thanks!
-M S, Morganton, NC
---
I can see a change already in my son. After a soccer game, he had no sneezing or eye rubbing for the first time in a long time. It's as if he doesn't have allergies anymore. We're so excited!!
– L.L., Mother of a 7 year old in Virginia
---
Hi Dr. Kristina,
I just wanted to give you a brief update on how my son is doing. I lost his homeopathic remedy for a few weeks. I could tell he needed more, but it was a few days before I could get to your office. During that time, I watched his face take on a red hue, and he got a bit of a rash. His behavior and discomfort flared up, and he came down with a snotty nose and sore throat. On Tuesday, I got some more of the remedy and gave it to him, and within a half hour he was calmer. His mood and face have completely cleared now.
I wanted to tell you all this because I am so truly amazed at how effective this remedy has been for him. It is so immediate in its effect, now that some of the long-standing difficulties have been cleared. I'm so grateful to you that you were able to find the right remedy, and so glad for my son, who is really enjoying school and his friends and reading and family life, all things that gave him trouble until we started working with you. Thank you!
I've been chatting with several other parents who are thinking of taking their kids to you- some who are working with ADHD, some with severe allergies. I've seen such a marked effect from the homeopathy, and from Dr. Eric's allergy therapy- I'm out there spreading the word! I hope lots more parents come to you guys for help!
-MW, Asheville, NC
---
I had trouble breathing since moving to the mountains of NC. Dr. Kristina Lewis interviewed me thoroughly and listened to my responses. Now I can breathe much better. My joints are not hurting and overall I am not in pain and feel much better and healthier. I recommend their office. It is amazing what is happening to me. Go see her. You'll feel better. I wish I knew about them sooner – about naturopathic medicine – at least 20 years ago.
-ST, Canton, NC
---
Hey Dr. Eric, I am experiencing another allergy season with almost no allergies — amazing! I just wanted to say thanks again. I really can't believe how well your treatments worked.
-MF, 32 year old woman, Hendersonville, NC
---
I think my allergies are 90% alleviated! I'm almost in disbelief about it. I keep thinking, "Allergy season must not have really hit yet." But everyone else around me seems miserable about it. So……I will be singing Dr. Eric's praises to every allergy sufferer I know.
-HP, Asheville, NC
---
I began taking my asthma remedy from Dr. Eric when I got home and later that day I realized, Oh My God, I can breathe again! It's fantastic, I'm having no breathing problems, no wheezing… it's great! I have not had one single wheezing attack as I go up and down the stairs. I can take a deep breath from the bottom of my lungs. Pollens hardly bother me at all. I'm breathing well for the first time in 8 to 10 years.
-JB, 64 year old woman, Asheville, NC
---
I have suffered from severe allergies my whole life and have tried all sorts of medicines and treatments (Western and Eastern), in addition to taking extreme measures to control my environment. Nothing really helped. Then I saw Dr. Kristina Lewis for one session; she diagnosed the root cause of my problem and made some easy-to-follow recommendations that have led to a dramatic reduction in my symptoms and a huge improvement in my quality of life. I am deeply grateful for her insight and commitment in service of my well-being; and I whole-heartedly recommend Lewis Family Natural Health to anyone seeking better health the natural way.
-Claire Lee, Atlanta, GA
---
I sought help for my insomnia and problems with going off my hormones. Dr. Kristina really listened. I felt no sense of "rushing me out the door" that I've had with other physicians. She also not only respected but understood my nutritional choices (vegetarian 35 yrs.). Within two weeks of changing to the suggested vitamins and minerals from Dr. Kristina, I could tell an overall energy and balance that I wasn't experiencing with my usual vitamins. Yes, I do recommend their office! Drs. Kristina and Eric sincerely care about your health and well-being. You should too. Go see them.
-Jo P, Asheville, NC
---
I have struggled with acne my entire life and feel like I have tried every treatment possible! Most of the time these treatments would only work for a short time. I recently started getting acne cysts, which are very painful and stay up to 30 days at a time. I was getting married and was in a panic due to an outbreak when I decided to contact Lewis Natural Health. Drs. Lewis came up with a program that healed the cysts from the inside out. I was in shock at how well the program worked, as my face has never looked better and my skin was glowing on my wedding day. I no longer get acne cysts and rarely have breakouts – I owe it all to Lewis Natural Health. It feels like a miracle – Finally!
-JG, Charlotte, NC