Accredited Naturopathic Colleges:
AANMC (Association of Accredited Naturopathic Medical Colleges)
Southwest College of Naturopathic Medicine (Tempe, Arizona)
Bastyr University (Seattle, Washington)
Canadian College of Naturopathic Medicine (Toronto, Canada)
National University of Natural Medicine (Portland, Oregon)
University of Bridgeport (Bridgeport, Connecticut)
Boucher Institute of Natural Medicine (British Columbia, Canada)
Naturopathic Associations:
The American Association of Naturopathic Physicians (AANP) – National professional association for licensed naturopathic physicians.
North Carolina Association of Naturopathic Physicians (NCANP) – North Carolina association of licensed naturopathic physicians, working to obtain licensure for Naturopathic Doctors in North Carolina
Council on Naturopathic Medical Education (CNME) – US Department of Education accrediting agency for naturopathic medical education
Homeopathy
National Center for Homeopathy (NCH) – Non-profit organization supporting homeopathy in the U.S.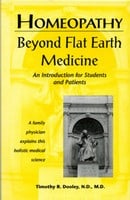 Homeopathy: Beyond Flat Earth Medicine: An Introduction for Students and Patients, By Dr. Timothy Dooley, ND, MD
This easy-to-read book is the best all-round introduction to homeopathy available. Dr. Dooley intersperses stories from his twenty years of training and experience as he explains what homeopathy is, how it differs, when to use it, what to expect, how to get results, and what is needed for success in treatment. Highly recommended by homeopathic practitioners.
We have print copies of this book available at our office, or you may download and read the first edition for free here.
Natural Health Articles